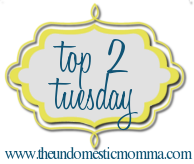 Today's Top 2 Tuesday topic is not my expertise.
Top 2 Healthy Recipes and Snack ideas!
I must say that I am not the healthiest eater. I've gotten a lot better over the years, but I'm not sure my snacks can really be qualified as "healthy". I decided to pick 2 of my most healthy favorite snacks…hope you health nuts approve. Maybe y'all can suggest some actual health options for me!
Pretzels – I LOVE pretzels! Since they're fat free and baked, I think they are a healthier alternative to potato chips.
String Cheese – I buy the mozzarella made with skim milk, and it's low on calories. Again, not sure if cheese if qualified as "healthy". It's important to get calcium though, right??
I can't wait to see your healthy snacks! Leave me a comment if you're a new follower, so that I can check your blog out too!