I stumbled upon a new blog hop today! I love finding these!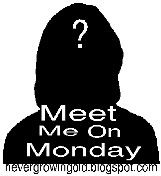 This hop is geared towards "meeting" new blog friends by answering a few questions. I've never done one like this so I figured I'd link up...click the button above if you'd like to link up too!
1. What do you put on your hot dog?
Absolutely nothing! Some people call me crazy, but I am a very picky eater. I'm not too big on condiments. Mostly, I just like things better without them. At the Varsity in Atl, I order a naked dog.
2. Do you play Sudoku?
Yes, I do! I actually completed one from my school's newspaper about 10 minutes ago!
3. What is your favorite vegetable?
Not a huge veggie-girl, but I would have to say my favorite is carrots. I don't like cooked carrots though.
4. Do you color your hair?
I do not color my hair. I get this question a lot actually. I think most of the people in my life would hurt me be sad if I did. You can see more pictures of my hair in my Etsy shop as I model my Frayed Flower Headbands.
Kind of an oldie of the boy and me
5. What is your favorite brand of clothing?
I don't have a favorite brand, but I like American Eagle jeans. I just enjoy shopping in general. If I had unlimited funds, I would live in JCrew and Banana Republic.
To any new readers, welcome! Browse through my old posts! If you like what you see, follow me...and leave me and comment so I can come check out your blog!
Again, I'm pushing my new Facebook fan page for Hand Made and Lovely. "Like" Hand Made and Lovely!! There is also a "like" button on my sidebar.