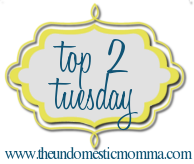 It's that time again...time to link up for Top 2 Tuesday. This week's topic is
Top 2 things you've learned about friendship
I'm excited to go look at everyone's lessons and advice! Here are 2 of the things I've learned about friendship since going to college.
1.
Friends will stay in touch if they want to stay in touch. Distance won't matter, but it does take both people making a conscious effort. True friendships (or any other kind of relationship) can last long distance.
2. Just because you like someone does not mean that you will like living with them.
Be sure to link up with the Undomestic Momma to share the top 2 things you've learned about friendship.
To any new readers, I appreciate new followers and comments. My 75th follower is likely to get a coupon code to
my Etsy shop
. Be sure to leave me a comment if you decide to follow so that I can check out your blog too! Also, I'll be having a giveaway in a couple of weeks, so you won't want to miss that!
I have
a new fan page
on Facebook for Hand Made and Lovely. Hop on over and "like" it! There is a link in my side bar. I'll probably be posting about this each time for a while. If you're sick of it already, I apologize and please bear with me. Thanks to my sweet followers who already "like" Hand Made and Lovely!!