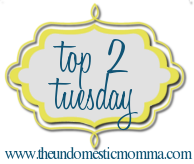 I'm linking up with the Undomestic Momma again for Top 2 Tuesday. She's doing a series on things learned and this week's topic is
Top 2 Things You've Learned About Blogging .
Blog about what you love. I think it's easy to tell when someone's heart isn't in their blog or post. How can you expect your followers to be interested if you're not even interested?
Be an active blogger. To make blog friends, it's important to visit the blogs you follow and leave comments. It's also important to search for new blogs. Follow people's links and check out the blogs that other people like. If you like their blog, it's likely that you'll like the blogs they like. How many times can I say "like" in one sentence?
I'm still looking for 17 more followers, so I can host my very first giveaway!! I'm already preparing my fabric rosettes...hint hint! Spread the word!