I've stumbled upon a new Blog Bash link-up!! I love finding new link-ups, because it always leads to me finding new blogs to read!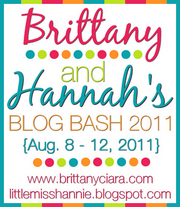 So, to start out, I'll introduce myself to any new readers. My name is Bracey, and I love to create. I'm a recent graduate of Clemson University with a degree in Architecture. I love all sorts of design and use my free time to make jewelry and accessories. Want to know more? Check out some of my old posts!
This Blog Bash has a Summer theme, and I have some questions to answer.
1.) What's your favorite memory from Summer 2011?
My favorite memory of Summer 2011 would have to be my most recent beach trip with 3 of my best friends! We had so much fun, and it was so great to be able to spend a few days together since we're all going our separate ways this Fall. I surely hope we'll be able to do this again soon!
2.) What's your dream summer vacation?
I've always wanted to go to Vegas! I have fantasies of winning the slot machine jackpot!
3.) What's your favorite thing to do in the summer?
I love to relax! I'm afraid that now that I'm out of school, the summer won't be much different from the rest of the year :( (only hotter!!)
4.) What's your "blog goal" for 2011?
My goal for the month is to reach 200 followers! I'm so close!! In January, I made a goal to blog regularly and keep up my Etsy shop. I think I've been doing pretty well so far. I've definitely been slacking a little lately, but I'm trying to get back into my normal routine.
5.) Let's hear the story behind your blog title!
My blog (and Etsy Shop) is called Hand Made and Lovely after an old sweater tag I found in a jar full of vintage buttons. I just thought it was the perfect name for all my creations!